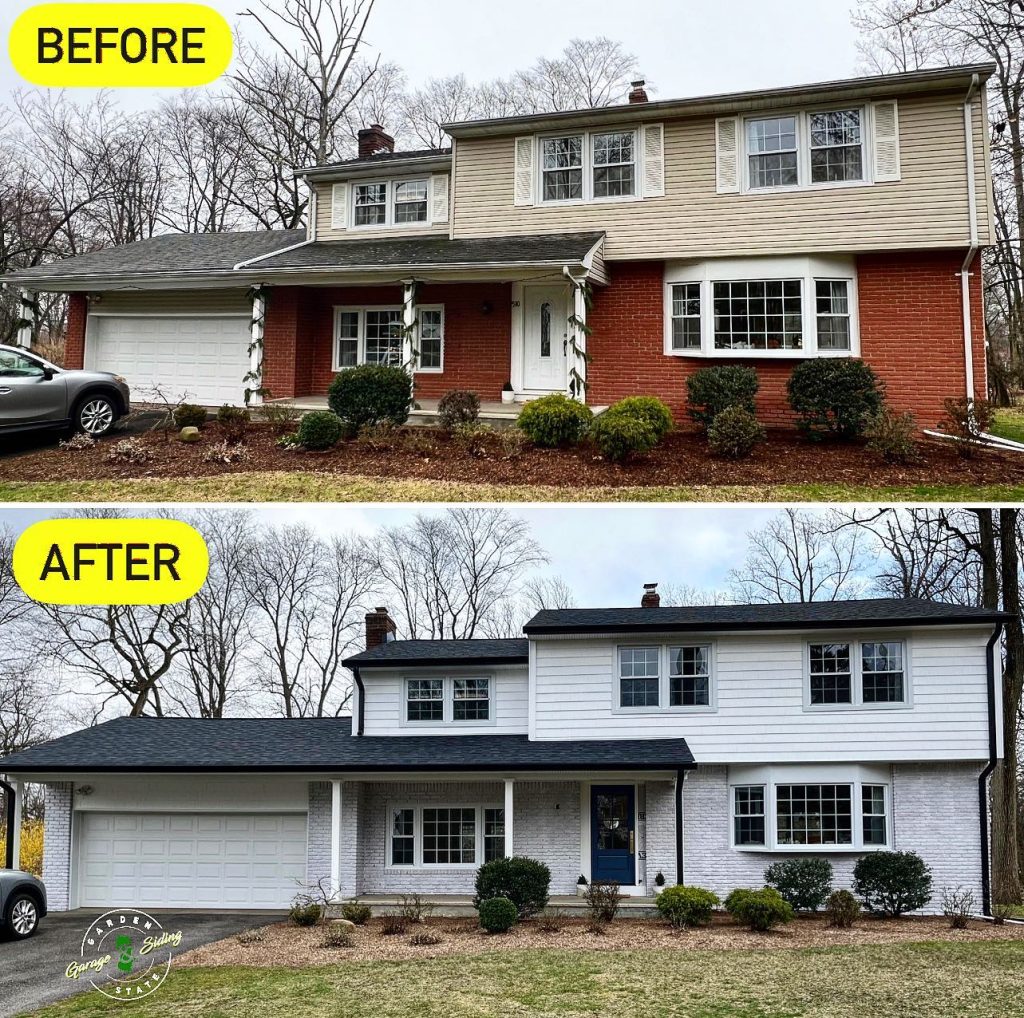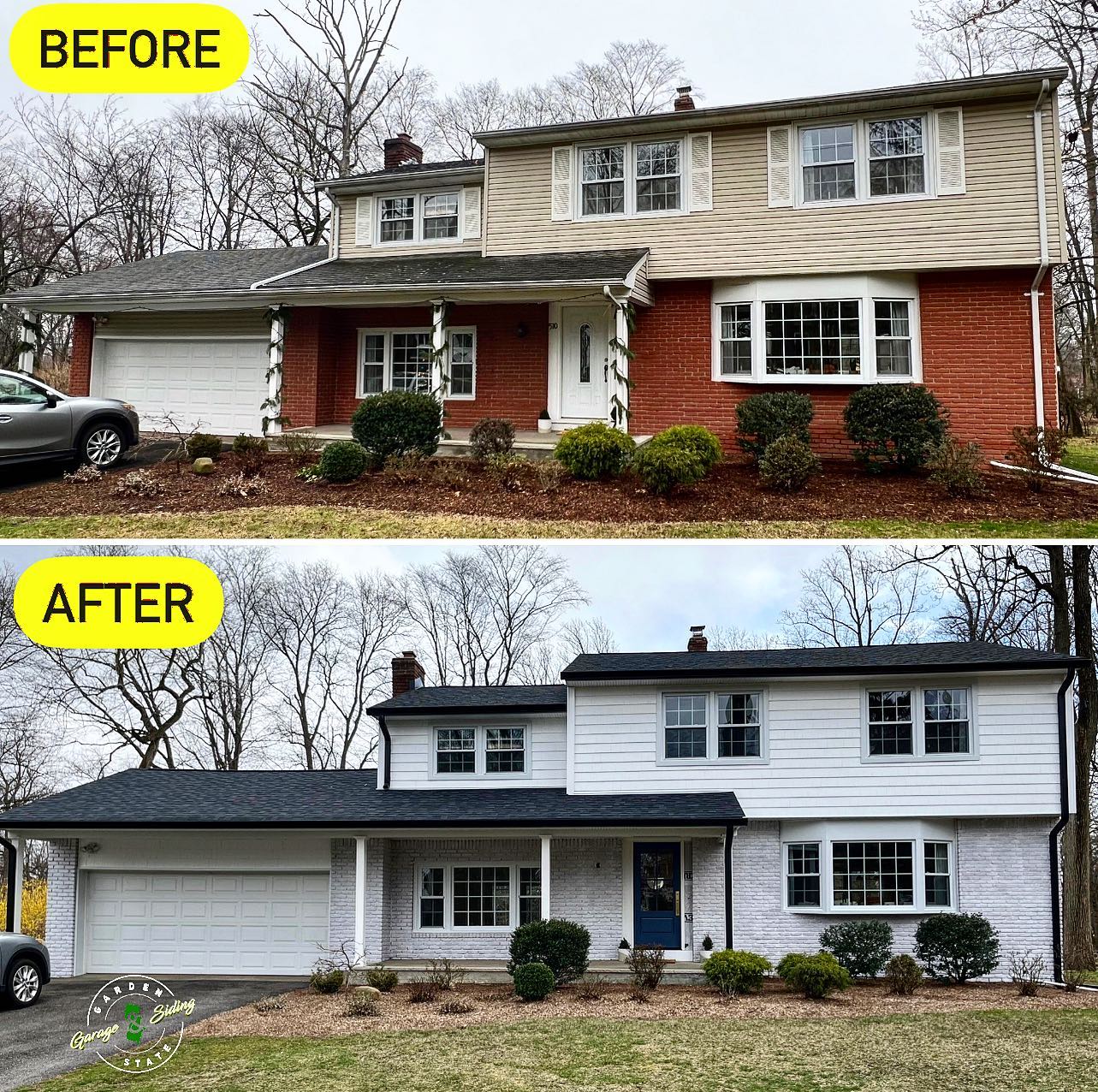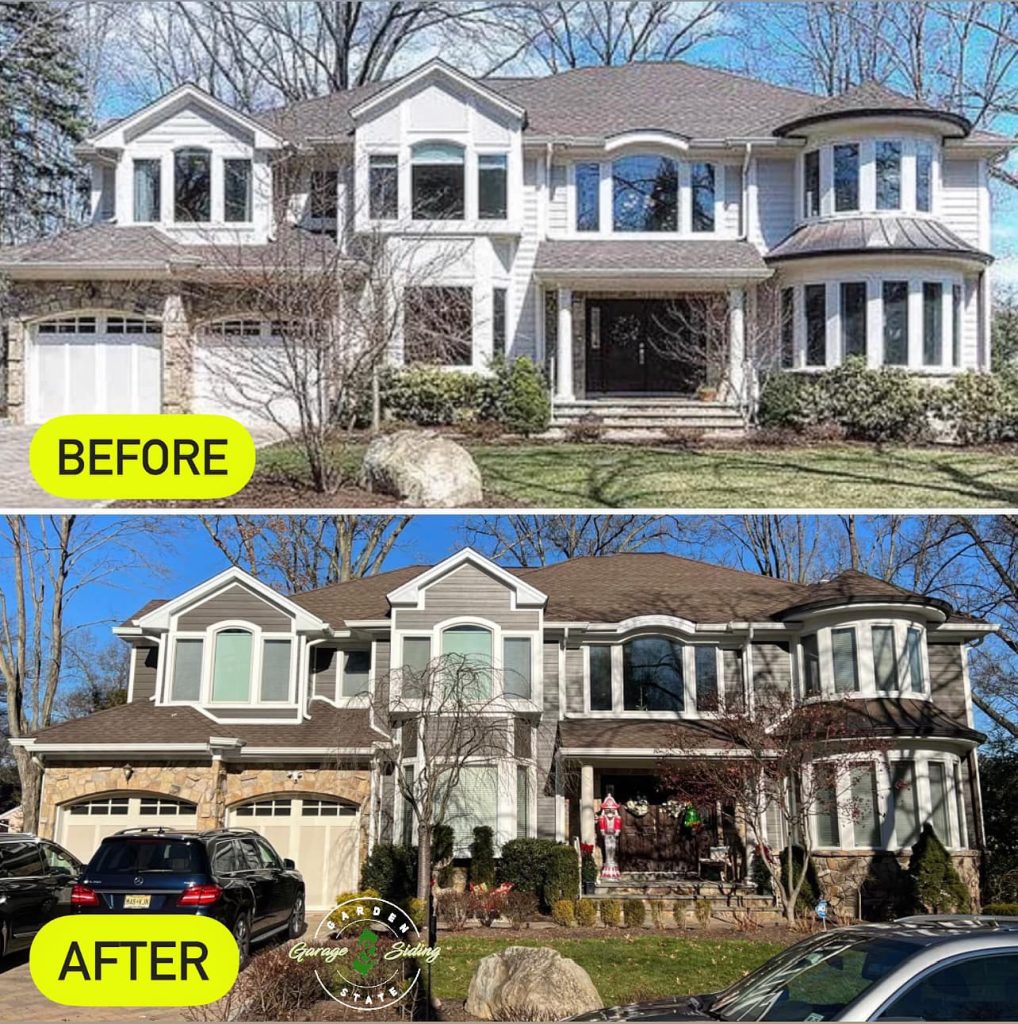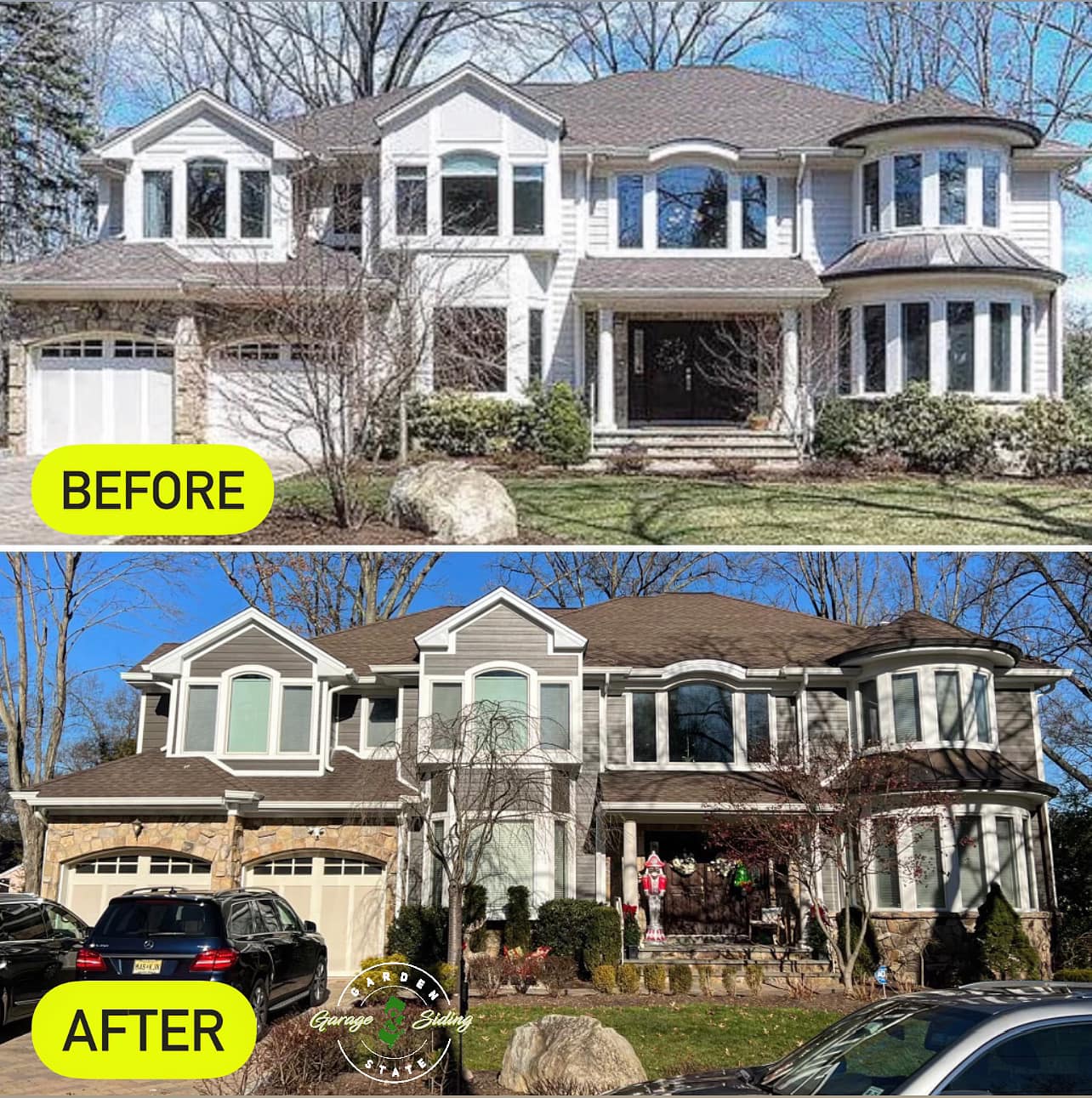 Siding Contractors Or Fiber Cement Siding Contractors Near Me
Vinyl Siding Installation Contractors Near Me – Changing your exterior can not only improve the appearance and look of your home, but it can also increase its energy efficiency, insulation value, and value of your home as well. However, the extent of these improvements largely depends on the type of siding you choose. There are many siding brands, materials, and styles, so it can be difficult to select the right one. Consulting with your trusted siding company, siding contractor, or siding installer will help guide you in the right direction. In Bergen County, Passaic County and surrounding areas we install a lot of vinyl siding and fiber cement siding or James Hardie Siding. – Fiber Cement Siding Contractor.
If you are trying to choose the material, you'll find that James Hardie Siding, fiber cement siding and vinyl siding are two popular options among homeowners in NJ. Garden State Garage and Siding are siding installers that focus mostly on Bergen County, Passaic County and surrounding areas. Each has its benefits and cases where it might be the better choice. In this article, we'll help you compare the two types of siding by focusing on James Hardie fiber cement siding vs. vinyl siding.
Benefits of James Hardie Siding – Fiber Cement Contractor
James Hardig is one of the leading manufacturers of fiber cement siding material. You should consult with an experienced siding company, James Hardie Siding Contractor, or siding installer. It makes its siding out of cement, sand, and cellulose fibers. This unique composition creates an outstanding product that is protective and beautiful. The following are just a few of the advantages you can expect from James Hardie fiber cement siding:
Impressive Durability: James Hardie has carefully designed its fiber cement siding to withstand harsh elements and weather. You don't have to worry about wind, humidity, or extreme temperature changes and it requires minimal maintenance. Best of all, they stand up to impact, so hail is no match for these products either
Realistic Wood Details: Wood makes a stunning siding material, but it requires difficult upkeep. Fortunately, you can enjoy the beautiful details of wood grain without all the hassle because Hardie siding is designed to mimic the appearance of wood planks.
Fire & Pest Resistance: Fiber cement siding is also superior to wood siding because it can resist damage from destructive pests, such as termites, carpenter ants, and woodpeckers. Best of all, the siding isn't combustible, so it provides additional fire safety that wood cannot.
Low Maintenance: You never have to worry about sanding, repainting, or staining your James Hardie siding. Maintenance is simple. You can easily clean it with a garden hose and brush twice a year for it to look brand new again.
Benefits of Vinyl Siding – Vinyl Siding Installation Contractors Near Me
Vinyl Siding has been around for about 60 years. It was originally created as an alternative to aluminum siding. Since its invention, it has seen many developments and improvements. Therefore, it offers homeowners many benefits that other materials can't. When you choose vinyl siding, you can enjoy:
Cost-Effective Solutions: While there are different grades of vinyl siding, they tend to be more affordable than other materials, especially wood and brick. That's not all. It can also last for several years with minimal maintenance, providing a great return on your investment.
Easy Installations: Vinyl siding is lightweight and comes with pre-drilled holes, which speed up the installation process. With the help of a professionally trained installer, you can get the job done quickly without compromising the quality of the vinyl.
Versatile Products: One of the most significant benefits of vinyl siding is its ability to look like other types of siding. Whether you prefer wood shake, stone, or the look of any other material, you can find a vinyl product that mimics it. You can also choose from several stunning colors, profiles, and textures.
Mold and Mildew Resistance: Unlike wood, vinyl siding can withstand the effects of moisture. You never have to worry about mold or mildew destroying it. Instead, you can simply clean it if it becomes dirty.
Which Choice is Best for Your Home? – Vinyl Siding Contractors or Fiber Cement Contractors?
Now that you know more about the benefits of James Hardie siding vs. vinyl siding, you should be able to choose the right option for your home. You can start by considering which factors are most important to you. Consult with your trusted siding company, siding installers or siding contractor on which product better fits your budget.
For some homeowners, price and installation time might be higher on their list of priorities. Others might prefer to spend more money on a beautiful, long-lasting product. In order to choose between fiber cement and vinyl, you should consider your:
Budget
Home Design Style
The Siding of Other Structures on the Property
Energy Efficiency Goals
Climate
Maintenance Expectations
Cases for James Hardie Fiber Cement Siding Installers
If you still aren't sure, consider these cases for James Hardie fiber cement siding.
Homeowners who love the look of wood but fear its combustibility and high-maintenance upkeep might prefer James Hardie. It allows them to enjoy the curb appeal of wood siding, but it provides them with peace of mind and low-maintenance care.
You might also prefer James Hardie siding if you are concerned about durability. While vinyl products have come a long way, they are still no match for the resistance of fiber cement. Areas with a lot of inclement weather might benefit more from the strength of this product.
Cases for Vinyl Siding – Vinyl Siding Installation Contractors
When does vinyl siding make the better choice? We recommend it for homeowners who are looking to increase their curb appeal on a budget. There are so many different choices for vinyl siding, so it is easy for anyone to find something they love—no matter their price range!
Vinyl also becomes a clear winner when you look at the installation process. If you are looking for something that can be installed quickly, then you can't go wrong with vinyl products. Professional siding installers or a siding company can have the job done far faster than they could with other materials.
Discover More About James Hardie Contractor and Vinyl Siding Contractors
At Garden State Garage and Siding we understand how difficult the design phase of your siding installation can be. For that reason, we work with all of our customers to help them choose between the different types of products we offer. In fact, we have more than 30 years of remodeling experience, so we can answer all of your questions about James Hardie vs. vinyl siding. You should always consult with your siding installers on which look and design better fits your home style.
Design Prior To Installation
If you would like to schedule a design consultation for your installation, we encourage you to contact us right away. We are your trusted contractors. You can call one of our helpful service representatives to set up a convenient appointment in your home. We also have a simple online form that you can submit to request a free, no-obligation quote. – Siding Installers
We are seeing color trends carrying over from over the recent years with grays and blues with regards to our updated siding and roof blogs. In short our blogs keep up with the trends. The most popular colors currently are Midnight Blue, Pacific Blue, Charcoal Gray, and Sterling Gray, through CertainTeed vinyl siding. Different companies often supply different lines of material, and although a color may be called, "Charcoal Gray", they might have a slightly different color with the same name. Quality of material also varies from company to company. Always consult with a siding expert. Thankfully, we carry CertainTeed which is one of the best siding product providers with a variation of siding lines available.
Above all, choosing the right vinyl siding style that aligns with your property's aesthetics and resists environmental damage requires careful planning and preparation. Certainly, Garden State Garage & Siding has a team of experienced professionals to give you premium-quality, efficient, and long-lasting results.
Reviews
Let our 100s of five star reviews for speak for themselves. Hundreds of happy clients can't be wrong! Call us to schedule an appointment and see first hand what top shelf customer service is like! Call Garden State Garage and Siding…..A Company They Trust!
From roofs to siding problems, Garden State Garage and Siding is the company and siding installers that are ready to help you. In this upcoming season, bring your home improvement projects to us. You may call us at (201) 739-8700 or contact us to schedule your appointment. We offer our services to the residents of Bergen County, NJ. – Best siding companies near me
Contact us today for more information! Follow Us On Instagram!
Table of Contents