Exterior Siding, Gutter, Garage Door & Roofing Services
Garden State Garage and Siding is a full-service Home Renovation Contractor specializing in all types of exterior renovations. Our services will give your home or business a high-quality, aesthetically pleasing exterior.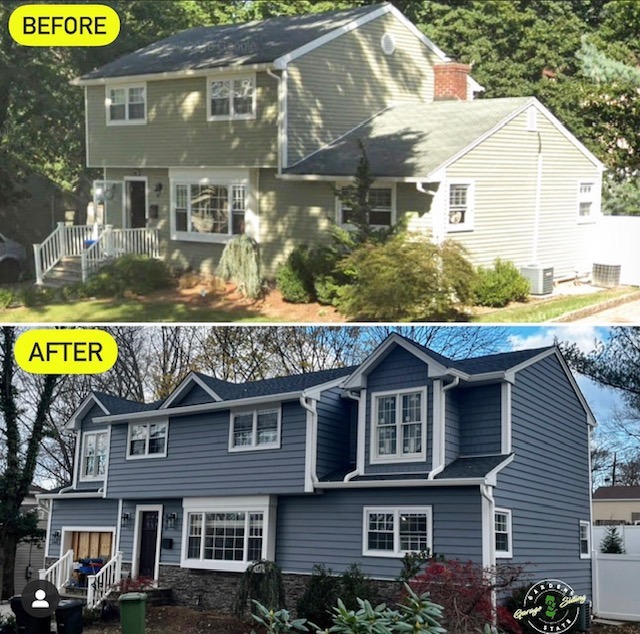 Above all, we only use high-quality products. When we mesh those products with our outstanding workmanship, you will receive top-quality results.
Our Services – Home Renovation Contractor
Residential Roofing – Home Renovation Contractor
Certainly, our certified roofing team provides asphalt shingles, tile roofing and metal roofing for local homeowners. Altogether, we can install a beautiful new roof or restore your existing roof, if possible.
Commercial Roofing – Home Renovation Contractor
At length, we provide a number of flat roofing solutions for our commercial customers, including high-quality roof coatings. Whether you need a brand new roof installed, our commercial roofing specialists will do the job correctly.
Roof Replacements
We specialize in full roof replacements for both residential and commercial customers. Our team will carefully remove your existing roof and expertly install your new roof.
Gutters
If you need new gutters, count on our local team for an expert installation. We install custom gutter systems made of various materials and sizes, so that you can have a gutter system that perfectly matches your existing home or business.
Siding
Our home renovation company has provided hundreds of local homeowners with new siding that looks great and will last for decades.
Garage Doors
Our expert garage door technicians are available to install new garage doors, and replace garage door openers, and perform other garage door related services.
Contact Us Anytime for a Free Estimate!
When you need a trustworthy local contractor in the Bergen County, Passaic County and surrounding areas, Garden State Garage and Siding is the choice to make. Call us at (201) 739-8700 or send us a message for a free estimate. We are on-call 24/7, and we offer convenient financing with quick approvals. Contact us today!
Contact us today for more information! Follow Us On Instagram!