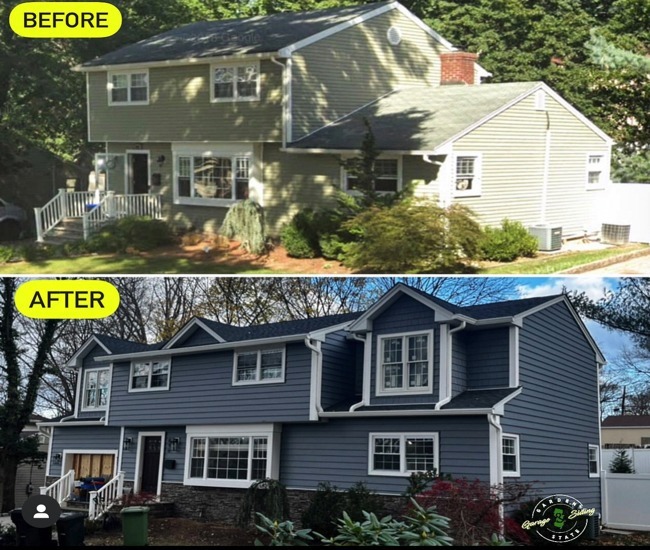 Siding Installation Contractor in East Rutherford, NJ
Garden State Garage and Siding is a New Jersey East Rutherford Siding Contractor installing Vinyl, Fiber Cement, and Composite Cellular products in East Rutherford, NJ. We are the local contractor that offers siding and insulation products from all different manufacturers to ensure guarantee quality and affordable siding installed on your home. Clapboard Siding and Vinyl Shake Siding can increase the value of your home. Additionally it can also boost the energy efficiency, while adding curb appeal with custom design elements.
Garden State Garage and Siding is a siding company that has been serving East Rutherford, NJ for many years. We offer complimentary free siding consultations. Also, our hundreds of 5 star reviews speak for themselves! If you are in the market for new siding and searching for an installation contractor in East Rutherford, NJ, call us!
Garden State Garage and Siding is a local siding contractor that is a licensed and insured local siding contractor. We are trained Project Managers and Siding Installers. Certainly, we understand the importance of following manufacturer guidelines as well as New Jersey building codes. With knowledgeable siding sales and service teams working in East Rutherford, NJ for years we can introduce you to the latest and best quality siding products available on the market at an affordable price.
Please call us at (201) 739-8700 or fill out or contract us for a Free Estimate. Accordingly, one of our siding specialists will contact you to schedule a visit. We will explain the whole process and we can also schedule you in our show room for a 1 on 1 experience. – East Rutherford Siding Contractor
What is siding? – East Rutherford Siding Contractor
Siding is the protective material attached to the exterior side of a wall. Along with the roof, it forms the first line of defense against the elements, most importantly sun, rain/snow, heat and cold, thus creating a stable, more comfortable environment on the interior side. The siding material and style also can enhance or detract from the building's beauty. There is a wide and expanding variety of materials to side with, both natural and artificial, each with its own benefits and drawbacks. Masonry walls do not require siding. We are the local contractor with a show room for you to visit. – East Rutherford Siding Contractor / Local Siding Contractor
Most siding consists of pieces of weather-resistant material that are smaller than the wall they cover, to allow for expansion and contraction of the materials due to moisture and temperature changes. There are many styles siding such as board and batten to a variety of clapboard. Lap siding gets installed horizontally across the wall. Additionally, This technique is to prevent water from entering the walls. Siding that does not consist of pieces joined would include stucco. However, because of the lack of joints, it eventually cracks and is susceptible to water damage. Rainscreen construction is to improve siding's ability to keep walls dry. – East Rutherford Siding Contractor / Siding Company / Local Siding Contractor
Contact Us
Request an estimate with us so that you can meet with one of your experienced specialists. We can help guide you with selecting the right color and material for your home makeover. We have many samples on hand and in our show room location.
In addition we can also render a 3D image of your current home and make changes to it with the material and color that you choose and want to see on your home prior to the work being done.
Garden State Garage and Siding the siding company that is here for you! Contact us today for more information! Follow Us On Instagram!
Table of Contents