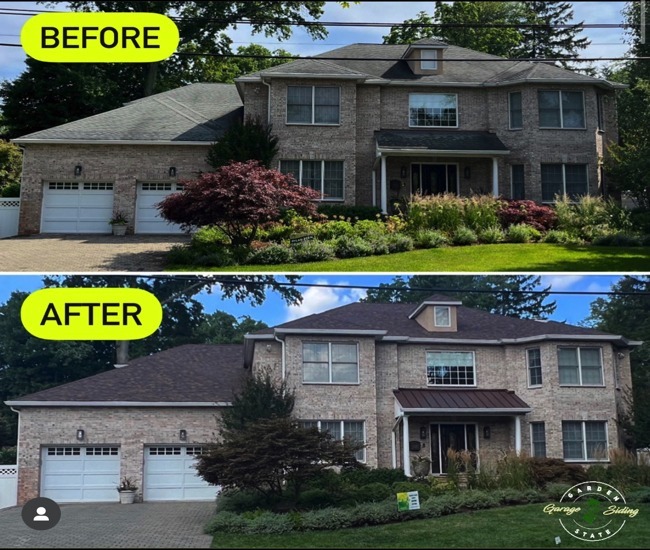 Roofing Contractor in Upper Saddle River, NJ
Upper Saddle River Roofing Contractor – Garden State Garage and Siding is the company that has been providing replacement services to Upper Saddle River, NJ homeowners for years with years of roof installation experience. We specialize in all types of roof replacement from top rated roofing shingle manufacturers such as GAF, Owens Corning and Certainteed – Roof Installer
Let our 100s of five star reviews speak for themselves! All of our clients are happy and pleased with the attention and care that we offer. Our highly trained roofers are experienced in various types of roof installs and repairs. Our sales representatives have years of experience in the field. They are here to help you and explain the whole process while being your point person. They are easily reached and they will become your point of contact from start to finish of your project. – Roof Company
Garden State Garage and Siding installs lifetime roofing systems using GAF roofing, Owens Corning and Certainteed roofing systems. Our roofs and residential roof are installed with Lifetime Shingle Warranties! Basically, we offer Top-rated roof shingle brands to fit your budget and style. Our team of top quality roofing contractors always strive to finish your roofing project on time. We thoroughly communicate throughout the project to keep you informed of the roof install process every step of the way.
Certifications – Upper Saddle River Roofing Contractor
Roof Installer
Garden State Garage and Siding is a GAF Certified Roofing Contractor and is able to offer the GAF Weather Stopper System Plus Warranty. Garden State Garage and Siding is also an Owens Corning Preferred Installer! Our team utilizes the latest roofing installation methods. We know that roof replacement is one of the most important home improvement projects for any homeowner. Additionally we understand that you need a qualified and certified roof contractor. Also, we provide professional roof replacement services with quality workmanship and affordable roof pricing. – Residential Roof
If you are in the market for a new roof near Upper Saddle River call Garden State Garage and Siding: your roof company! Above all we will be happy to provide you with a free estimate. Please call us at (201) 739-8700. Fill out our free estimate contact form and one of our roofing specialists will contact you.
High Return On Investment – Roofer in Upper Saddle River
Certainly, One of the biggest benefits of a new roof is the return on investment that comes with this project. As we've already mentioned, you'll likely recoup most — if not all — of the roofing costs when you go to sell your home. Potential buyers typically prefer homes that don't need a lot of structural work, so a new roof allows you to sell your home at a higher price and makes your home more appealing to potential buyers. People are attracted to a home that isn't going to require them to pump a lot of money into it . – Upper Saddle River Roofing Contractor
A new roof can also demonstrate to potential buyers that you have maintained your home. Certainly, it will show them how you protected it from things like water damage. In a 2019 survey from the National Association of REALTORS® (NAR) and the National Association of the Remodeling Industry (NARI), 33% of Realtors® found that a new roof helped them close a sale on a home. A new roof will also bring curb appeal! – Roof Near Upper Saddle River
Contact Us – Roof Contractor
Roof Company
Call us to schedule your one on one appointment with one of our experienced professional sales representatives so that he can help guide you with the changes that you would like done to your home. Certainly, He can help you select the material style and color of your choice.
Therefore, Garden State Garage and Siding is the Contractor that is here for you! Above all, keep your roof dry this year. Schedule an appointment in our showroom with one of our sales representatives and ask about our 0% interest FREE financing! Apply in office and make the home of your dreams a reality! Contact us today for more information! Follow Us On Instagram!
Table of Contents

Garden State Garage and Siding