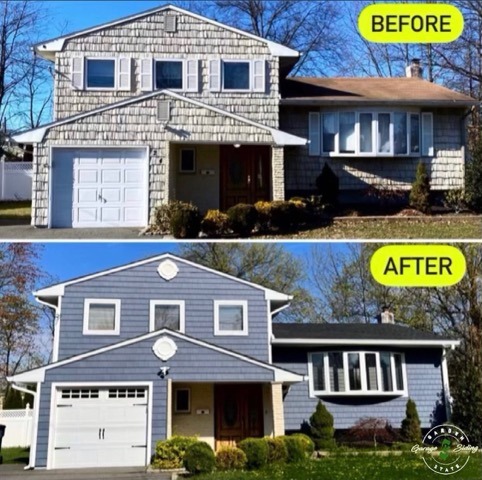 Best Vinyl Siding Company
Are you looking for the best vinyl siding company that provides vinyl siding installation in Bergen County, New Jersey? If yes, you are in the right place. Vinyl siding is a house's exterior siding made of plastic. Basically, the primary purpose of vinyl siding is to weatherproof your residential property's exterior, improve its décor, and increase its overall resale value. Certainly, Garden State Garage and Siding is a local contractor that has been servicing the local areas for many years with replacement. We are the installer of choice.
Manufacturers use polyvinyl chloride or PVC resins to make vinyl siding. It mimics the appearance of traditional wood siding and improves your property's aesthetic appearance. Not only does vinyl siding weathers well, but it is also resistant to wear and tear, rots, insects, pests, and other damages.
Unlike traditional siding, vinyl siding installation can withstand damage from rust, mold, and other elements without affecting its structural integrity and aesthetic appearance. Therefore, a quality replacement is ideal for home owners in Bergen County, New Jersey.
Choosing the best siding contractor is essential if you want to make the most of your vinyl siding installation. Otherwise, you won't achieve your goals, such as weatherproofing your home's exterior or generating higher returns on investments (ROIs). Read on!
How to Choose your Vinyl Siding Contractor?
Research shows that siding replacement done by the proper contractor by changing the traditional siding with new vinyl siding can increase your home value by 76.7%. When looking to upgrade or replace your home siding, you must not trust any contract with your house.
Choosing an experienced, licensed, insured, reliable, and cost effective vinyl siding company in Bergen County, New Jersey, is daunting and time consuming. However, you can consider the following factors to streamline the entire process.
Licensing
Insurance
Online reviews

Website reviews
Third-party reviews on Google, Yelp, etc.

Years of Experience
Estimated costs and payment plan
A written contract with all details
Warranties on vinyl siding and labor work
The type of siding brands and products the company use
When you perform thorough research and analyze these factors, you can collect valuable information and data. The purpose is to compare siding contractors and their services, experience, track records, costs per project, customer satisfaction, etc. Thus, you can make an informed decision and select the best vinyl siding company.
Is Garden State the Best Vinyl Siding Contractor?
Garden State Garage and Siding has served Bergen County, New Jersey, for over six years as a vinyl siding company. It is a family operated business in Midland Park, Bergen County, and is a fully insured, licensed, and experienced company offering premium quality vinyl siding services at affordable costs.
Besides, Garden State has a team of professionals with years of experience in home renovation, including exterior remodeling renovations. The company aims to improve your house's aesthetic appearance, maintain its structural integrity, and increase its resale value. Garden State offers:
Installation
Siding Repair
replacement
Homeowners in Bergen County, New Jersey, rely on Garden State Garage and Siding for a professional, reliable, and affordable siding project. In addition to vinyl siding services, the company specializes in wood, metal, plastic, brick veneer, stone veneer, and composite siding. Above all, Garden State Garage and Siding is the best vinyl siding company in your area.
Albeit, depending on your needs and requirements, the company will give you a comprehensive plan detailing various aspects, including styles, colors, and materials. Certainly, You can choose from vertical and horizontal boards and shingles or sheet materials.
Garden State Garage and Siding is a company that has a team of experts who provide a proposal to explain the project's work scope, the type of materials, products and brands, cost, and timeline. Garden State Garage and Siding's team has extensive knowledge of vinyl siding and other products from reputable brands like James Hardie.
Final Words
Above all, A local vinyl siding installer works in the local community, making it a reliable and convenient option for homeowners. Garden State, established in 2015, provides premium quality vinyl siding installation, repair, and replacement services at affordable prices. Certainly, we ensure your project in Bergen County, NJ, is on track with no delays and timely completion. Contact us today for more information as we are the best vinyl siding company in the local area!
Why It's Best To Hire A Local Siding Contractor
Certainly, keeping your siding in good shape is imperative to ensure your home remains beautiful and protected against the local climate. If your siding needs work, it is never advisable to do it yourself. Instead, leave the job in the hands of a local contractor. We explain the unique advantages you can expect when you hire a nearby siding company.
Siding Installation
Additionally, a local siding contractor works right in your community, which makes them a convenient option. Because their travel time is minimal, they'll make sure to arrive at your home on time. This keeps your project on track, minimizing avoidable delays and ensuring a timely completion.
Siding Installer
Above all, a local siding firm will devote all of its attention to your project. They'll consider your preferences and requirements, making sure to meet or even exceed your expectations. A national company would rarely take such a personalized approach to exterior siding repair or replacement.
Knowledge of Local Codes and Regulations – Vinyl Siding Company
Most home renovation projects are bound by rules and regulations within the local town. That's why going with a local siding company makes sense. A local company is familiar with the local building codes and regulations, ensuring that your project is completed in accordance with these standards so you avoid any issues that might arise.
Siding Contractors
If there are problems that go beyond the scope of your siding contractor, a local company will have connections to plumbers or electricians in the area. For example, to help facilitate the repair. At Garden State Garage and Siding we have a large network of contractors that we know and have worked with for many years. Albeit, these are contractors that we are happy to stake our reputation on when we refer the to our home owners and clients.
Our Goal
Certainly, working with a national contractor, meanwhile, could take a little longer to respond to your situation due to their lack of local connections with other professionals. National contractors won't give you the attention that you might want for a large scaled project on your home. Our sales representatives have years of experience. Every single client is assigned one of our experienced sales representatives. Their main goal is to ensure that your project runs smoothly from start to finish. They are your main point person for you to call or text at all times of the day.
Additionally, our main goal is to make sure that you are happy with the decision you made to hire us to bring your home back to life. Above all, we pride ourselves on the work that we do to peoples homes to bring their vision to reality. Call Us Today and schedule your appointment!
Therefore, Let our hundreds of five star reviews speak for themselves. We have endless references of happy clients that hired us to renovate and bring their dream homes to reality. We are the company they trust!
Table of Contents