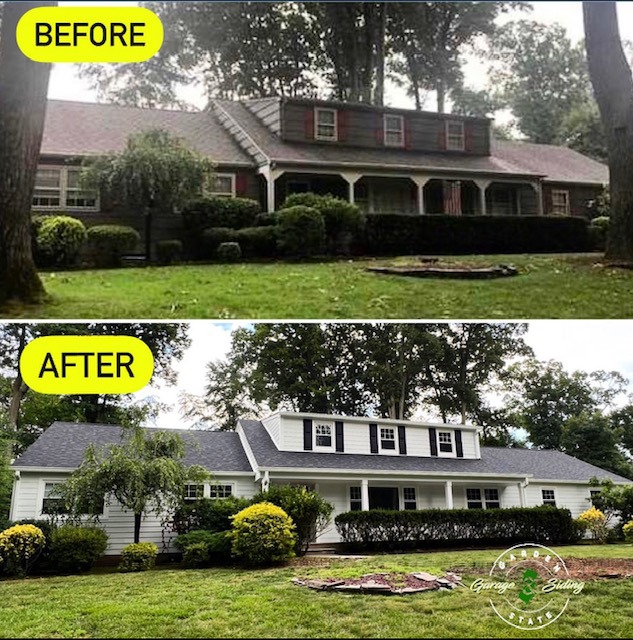 Local Siding Contractor
Siding comprises horizontal pieces of materials like aluminum, vinyl, metal, fiber cement, or wood installed on exterior walls. The primary objective of installing siding, such as vinyl siding, is to prevent water and moisture from penetrating the walls and affecting your property's structural integrity. At Garden State Garage and Siding we service all of Bergen County, Passaic County and surrounding NJ areas. – Local Siding Contractor
A properly installed siding provides a durable, energy-efficient, reliable, and long-lasting exterior for your home. However, many people get confused when choosing between a local and national siding company. Because siding is a complex project, it requires thorough research and planning to make an informed decision.
A local siding contractor in Bergen County and Passaic County will provide you with an estimate or quote based on your requirements. If you accept the contract, the siding installer will follow it and its terms. On the other hand, a national company may add hidden expenses, costing you more money.
Estimates – Local Siding Contractor
Therefore, a local siding contractor like Garden State Garage & Siding in Allendale, Fair Lawn, Glen Rock, Wyckoff, Mahwah, Ramsey, Franklin Lakes and surrounding towns does not have hidden costs in the estimate. Likewise, the company has a team of professionals with extensive knowledge of different types of exterior siding.
Whether vinyl, aluminum, metal, or other types of siding, Garden State Garage & Siding follows a step-by-step approach to inspect and prepare the project area and install siding to improve your home's structural integrity.
Today's article will highlight five reasons to hire a local siding contractor like Garden State Garage & Siding in Hasbrouck Heights, Hillsdale, Hawthorne, Mahwah, Midland Park, or Montvale. Read on!
1. No Project Delays – Local Siding Contractor
A local siding contractor works in your New Milford, Old Tappan, Oakland, Paramus, Ramsey, Oradell, or Ridgefield community, making the siding installer a more reliable and convenient option than a national vinyl siding company.
For example, a national company usually has a prolonged travel time, and the professionals they send to install vinyl siding may not meet your schedule, causing hassle and delays.
On the other hand, Garden State Garage & Siding is a local siding contractor with minimal travel time. So, our professional team will arrive at your residential property on time and keep track of your project.
The primary goal is to avoid delays and ensure a reliable vinyl siding installation. Therefore, Garden State Garage & Siding contractor follows a schedule that does not disrupt your personal and work life.
2. Follows a Personalized Approach
In addition to the local areas mentioned above, Garden State Garage & Siding company provides homeowners with premium-quality services in Saddle Brook, Teaneck, Township of Washington, Totowa, Waldwick, Wayne, Wood Cliff Lake, Westwood, and Wyckoff.
We follow a personalized approach to tailor the entire project based on your specific needs, preferences, and requirements. Our goal is to exceed your expectations and complete your vinyl siding project on time without hassle.
On the other hand, a national company does not follow a personalized approach because it has dozens of projects to complete in different areas, regions, and states. So, it may not pay close attention to the vinyl siding project. As a result, you may not achieve the desired results.
3. Extensive Knowledge of Local Building Codes
Although a national siding contractor has a team of professionals carrying out projects in different states, they are unaware of local building codes, rules, and regulations. So this can lead to harsh consequences and legal penalties.
Because most home remodeling/renovation projects, including roofing and siding projects, require following the building codes and regulations, hiring a local siding company like Garden State Garage & Siding makes sense.
We are familiar with local building codes in all areas mentioned above, and our experienced team will complete your vinyl siding per the local building codes, standards, and rules.
4. A Solid Network of Professionals
Sometimes, problems go beyond the siding company's scope. In that case, the vinyl siding installer seeks help from other professionals, such as electricians, plumbers, HVAC technicians, or general repair and maintenance workers.
For instance, if a plumbing issue occurs during vinyl siding installation, a local siding installer can quickly call a local plumber to fix the problem. The reason is that a local siding contractor has a solid network of professionals to facilitate the repair at any time.
In contrast, when you hire a national contractor, the teams will take a little longer to respond to the emergency because they don't have solid local connections. Therefore, it makes sense to hire Garden State Garage & Siding company for your project.
5. Emergency Services
The most significant advantage of hiring a local siding contractor is 24/7 availability. Harsh weather conditions are the primary cause of damage to siding, requiring immediate repairs.
In that case, you can call Garden State Garage & Siding anytime to repair or replace damaged siding. On the other hand, national companies may not respond quickly, causing more damage to the siding and the home's structural integrity.
So, if you want professionals to arrive at your home promptly during an emergency, it is better to hire a local vinyl siding contractor. Garden State Garage & Siding has quick response teams to inspect, diagnose, and fix siding-related issues.
Final Words
A local siding contractor is a more reliable, convenient, and cost-effective option for homeowners. Contact Garden State Garage & Siding if you need vinyl siding installation, repair, and replacement services in the following areas:
Allendale
Bergen County
Fair Lawn
Franklin Lakes
Hasbrouck Heights
Glen Rock
Hawthorne
Hillsdale
Mahwah
Midland Park
Montvale
New Milford
Oakland
Old Tappan
Oradell
Paramus
Ramsey
Ridgefield
Ridgewood
Saddle Brook
Teaneck
Totowa
Township of Washington
Waldwick
Wayne
Westwood
Wood cliff Lake
Wyckoff
Contact us today for more information! Follow Us On Instagram!