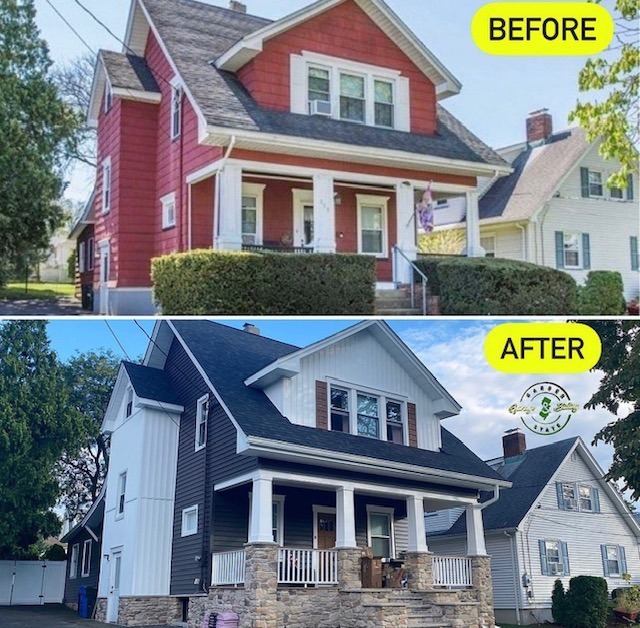 Vinyl Siding Near Me! Bergen and Passaic County
Vinyl Siding is aesthetically pleasing and the cost is affordable, making it a practice choice for homeowners to improve the curb appeal and increase home value. Hiring the right company to do this install is vital. At length, Vinyl is durable cost effective, high-quality, energy-efficient, eco-friendly, and maintenance-free. As a result, our 100s of five star reviews speak for themselves.
Generally, home owners in Wyckoff, Mahwah, and Ridgewood, NJ, must hire a professional siding installer or a company like Garden State Garage & Siding to streamline and install siding. The process and ensure the siding remains intact and last for a long time. As can be seen, the quality of our siding install work remains unmatched.
Vinyl cost has lower installation costs than its counterparts, like fiber cement. However, the siding material and installation costs depend on various factors. So, determining the cost of siding installation is not easy. Schedule an estimate with a great contractor or company today to schedule your installer appointment.
Above all, the good news is that Garden State Garage & Siding has a team of professionals who will inspect your home and give you an accurate installation estimate. Remember, less expensive material is not always a viable option because it can compromise materials' quality and reduce the siding's overall lifespan. Additionally, we are the locally trusted contractor. Finally, Today's article will discuss factors that affect the cost of vinyl. By the same token Read on! – Vinyl Siding Cost
Materials and Styles – Vinyl Siding Near Me
Albeit, materials are styles are crucial factors in determining cost. For example, it includes profiles, thicknesses, and additional elements influencing the material's cost. Accordingly, siding is available in various grades, from thin to super-thick quality.
Furthermore, Garden State Garage & Siding, the best vinyl siding company in NJ, premium-quality, thick vinyl is more expensive because it contains an insulation layer and a molded profile that improves its overall appearance. As a matter of fact, Garden State Garage and Siding is the leading expert in siding. Presently they are Bergen County's best.Soon, to be in every county.
For example, if you choose molded siding, it will appear like rounded Victorian scallops, wood shakes, logs, brick, or stone. So, the style of your selected siding also affects the costs. In other words, select a style that fits your budget. – Vinyl Siding Cost
Vinyl Siding Contractor – Home Design and Size When Doing Siding
Vinyl Siding Company
First thing to remember, your home design, structural integrity, and size allow Garden State Garage & Siding to be the vinyl siding installer to give you the correct siding installation estimate. Additionally, if you have a large home, the installation will require additional materials. Accordingly, a siding contractor that is reputable and honest is hard to find. In conclusion, always feel comfortable with who you hire. Surprisingly, not all contractors are the same. – vinyl siding company
So, this will cost more! Besides, residential properties with complicated cuts make it challenging for installation companies to install siding. Above all, you have a two-story home, the installation team will need additional equipment, including safety harnesses and ladders, to streamline the process. – Vinyl siding material
Moreover, gables, roofs, eaves, and corners will also add material costs and require more effort from the installation team. Therefore, your home's design, size, and condition play a crucial role in determining the cost of siding. – Vinyl siding installer
Labor Costs – Local Siding Contractors
Vinyl Siding Installer
Being that the average labor costs for siding installation in Wyckoff, Mahwah, and Ridgewood is between $2 and $5 per square foot. However, this varies from contractor to contractor, home to home, and season to season.
For example, the installation team will cost more in the peak summer compared to early spring or late fall. Finally, other factors that affect siding cost are old siding removal, prepping, and siding material's quality, thickness, and type. Overall siding is the best option for all homes.
Final Words
Vinyl Siding Near Me – In conclusion vinyl is lightweight, durable, energy-efficient, and affordable. In other words, Garden State Garage & Siding is the company that offers professional installation services at the most reasonable prices. Above all, our experienced team will inspect your home and consider the factors above to give you the correct siding project estimate. Henceforth, Contact us today for more information! Follow Us On Instagram!
Request an estimate with us so that you can meet with one of your experienced specialists. We can help guide you with selecting the right color and material for your home makeover. We have many samples on hand and in our show room location. Sit down with one of our account executives and tour our show room. Brainstorm ideas with our staff and let us help you bring cutting edge designs to reality for you. Make your exterior replacement a simple, stress free and easy one. We offer a wide variety of talent and offer a large variety of samples in our show room to help you.
In addition we can also render a 3D image of your current home and make changes to it with the material and color that you choose and want to see on your home prior to the work being done.
Lastly, the areas we service in New Jersey include as a vinyl siding contractor, roofing garage door and gutter company: –
Table of Contents

fiber cement siding james hardie james hardie contractor roof company roof contractor roof replacement siding companies near me siding company siding company near me siding contract siding contractor siding contractor near siding contractor near me siding installer siding replacement vinyl siding vinyl siding contractor