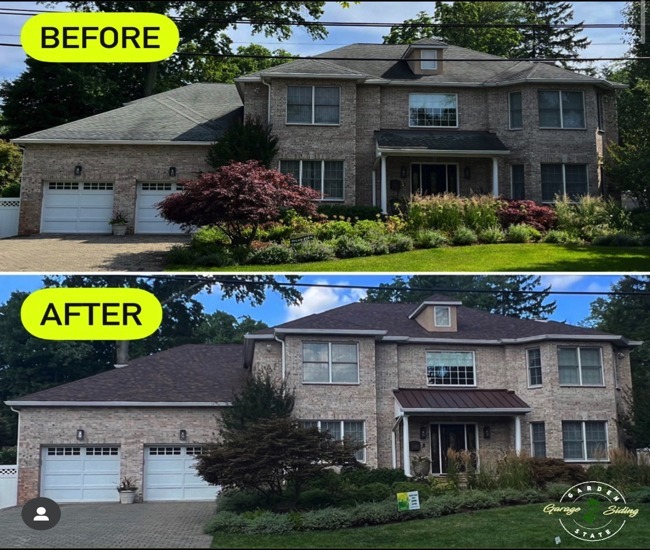 Roofing Contractor in Maywood, NJ
Maywood Roofing Contractor – Garden State Garage and Siding is the company that has been providing replacement services to Maywood, NJ home owners for years with years of roof installation experience. We specialize in all types of roof replacement from top rated roofing shingle manufacturers such as GAF, Owens Corning and Certainteed – Roof Installer
Let our 100s of five star reviews speak for themselves!
Garden State Garage and Siding installs lifetime roofing systems using GAF roofing, Owens Corning and Certainteed roofing systems. Our roofs and residential roof are installed with Lifetime Shingle Warranties! Basically, we offer Top-rated roof shingle brands to fit your budget and style. Our team of top quality roofing contractors always strive to finish your roofing project on time. We communicate throughout the project to keep you informed of the roof install process every step of the way.
Architectural Vs. Three-Tab Shingles
In general, thicker architectural shingles will last longer than thinner three tab shingles. In turn, ultra premium architectural shingles often last longer than standard varieties. The durability of architectural shingles is due in part to the lamination process – a layer of tough fiberglass is sandwiched between two layers of asphalt. By contrast, three tab shingles consist of a layer of fiberglass simply embedded in the asphalt. – local roofing companies

In the past, three tab asphalt shingle roofs typically lasted 12-20 years. How many years does a roof last if architectural shingles are used? Many of today's architectural shingle roofs should last 25, 30 years or more. – Maywood Roofing Contractor – best roofing

In fact, some major roofing manufacturers like GAF will warranty a roof installed by one of their factory certified contractors for up to 50 years. There are also lifetime warranties good for as long as your own your home. In some instances, they are transferable to the next owner.
Advanced Features – Roof Installer
Look for features that will extend the effective life of your roof. For example, a warrantied wind rating of 130 mph or more is appropriate in the Tri-state region. Also, consider cool roof technology that can reduce energy costs and extend product life. Special highly reflective granules send more of the sun's UV rays back into the atmosphere.

Some of today's shingles even offer protection against algae streaking. For example, shingles featuring GAF's StainGuard Plus Time-Release technology come with a 25-year warranty on blue green algae.
Things That Reduce A Roof Life – Maywood Roofing Contractor
Ask long-term residents of northern NJ neighborhoods how long their roofs lasted, and you'll get very different answers. One roof might protect a home for 50 years, while another one might only last 10 years. There are many reasons for this disparity. Let's look at some of the things that shorten the lifespan of a residential roof in the Tri-state area.
Substandard Materials
Inferior roofing materials may shorten a roof's effective life. Since shingles vary in quality, it is wise to pay attention to the type and the brand your roofer is using. For example, GAF, Owens Corning and Tamko all manufacture highly rated shingles.

Sub-standard felt or the wrong sheathing may also shorten a roof's life time. In general, shoddy materials increase the chances of leaks. Sometimes, water infiltration is so widespread that a full roof replacement is the only sensible option.
Improper Installation – Roof Company
It is very important to entrust your roof replacement to a reputable, factory-certified roofing contractor. Shoddy installation may dramatically reduce your roof's longevity. For example, if nails are not properly driven through the reinforced strips on shingles, they are more prone to coming loose in high winds. Improperly installed flashing is another source of trouble.
Excess Heat
Today's asphalt shingles are made to withstand New Jersey's weather extremes for many years. However, it is important to maintain good roof ventilation so the underside of your roof is not subject to excess heat and moisture. Regular inspections will ensure that your vents remain clear of debris.
In addition to the conditions above, altitude, wind elevations, the pitch of the roof and even valleys and facets can affect the longevity of the roof.
Tips For Making Your Roof Last
Modern asphalt shingle roofs are designed to survive New Jersey weather extremes for many years. However, it always important to be proactive about roof inspections and maintenance.
Certifications – Maywood Roofing Contractor
Garden State Garage and Siding is a GAF Certified Roofing Contractor and is able to offer the GAF Weather Stopper System Plus Warranty. Garden State Garage and Siding is also an Owens Corning Preferred Installer! Because our team utilizes the latest roofing installation methods, this means that the new roof on your home will be installed according to the manufacturer's strict specifications and guidelines. We know that roof replacement is one of the most important home improvement projects for any home owner. Additionally we understand that you need a qualified and certified roof contractor. Also, we provide professional roof replacement services with quality workmanship and affordable roof pricing.
If you are in the market for a new roof near Maywood call Garden State Garage and Siding: your roof company! Above all we will be happy to provide you with a free estimate. Please call us at (201) 739-8700. Fill out our free estimate contact form and one of our roofing specialists will contact you.
Contact Us
Call us to schedule your one on one appointment with one of our experienced professional sales specialists so that he can help guide you with the changes that you would like done to your home. Certainly, He can help you select the material style and color of your choice.
Therefore, Garden State Garage and Siding is the Maywood Roofing Contractor that is here for you! Contact us today for more information! Follow Us On Instagram!
Table of Contents